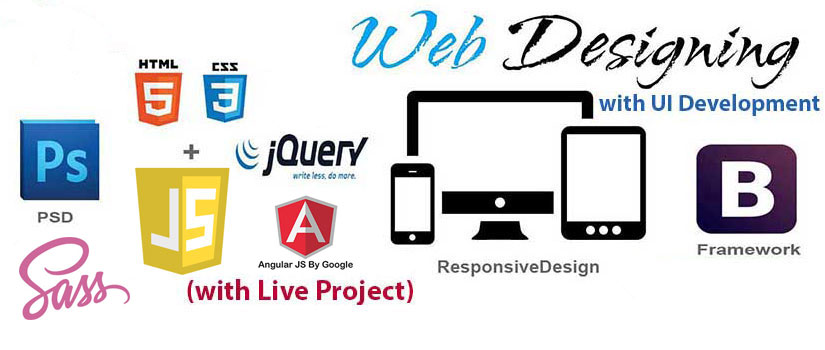 Web Designing and UI Development Training with HTML5
Web Designing
Web Designing Training in Noida by 6+ Experienced & Certified IIT Alumni with HTML5, CSS3, JavaScript, JQuery, Angular JS, SASS, Bootstrap, Photoshop, PSD to HTML5, UI Testing, SEO, Web Hosting and Two Live projects with 100% Job Assistance.
Web Designing is the process of building websites. This includes layout design, markup, fonts, images, content and responsive utilities. In IT Sector, Web Designing with UI, User Interface Development is one the most demanding course with maximum job opportunities.
Tech Altum's Web Designing Training with Advance User Interface Development cover all important and highly demanded technologies like Html , CSS, JavaScript, JQuery, Angular JS, Photoshop, HTML5, CSS3, SASS Responsive Web Design, Bootstrap Framework, PSD to HTML5, PSD to Bootstrap Conversion, Web Hosting,m SEO Intro, UI Testing and finally two Live Projects.
After completion of our Web Designing Course, candidate will be able to design any website of his choice perfectly, with Latest Websites Trends, can host his website on web server, and can do seo of this projects.
Web Designing Training
Our Web Designing Course is divided in two parts, Core Web Designing and Advance UI Development. If you are familiar with basic web technologies like, HTML4, CSS2 and Photoshop, you can directly start with advance UI development. If you are new into this, you have to do complete web designing course.
Web Designing
: 1.5 Month
HTML
Intro To Websites
Role of Web Designer
HTML Tags
HTML Attributes
HTML Headings
HTML Block and Inline elements;
HTML Doctype
HTML List
HTML Image
HTML Hyperlink
HTML Iframes
HTML Entities
HTML Form
HTML Table
HTML Meta tags
CSS
CSS Introduction
CSS Selectors
CSS Screen and Print Media
CSS Layouts
CSS Fixed Layout
CSS Liquid Layout
CSS color codes
CSS Text & Fonts Properties
CSS Box Model

CSS Margin
CSS Padding
CSS Border

CSS Outline
CSS Float
CSS Clear
CSS Lists
CSS Pseudo Selectors

Pseudo Class
Pseudo Elements

CSS Backgrounds
CSS Display
CSS Positions

Position Static
Position Relative
Position Absolute
Position Fixed

CSS Drop Down Menu
Photoshop
2 weeks
Adobe Photoshop Intro
Photoshop Tools
Photoshop Layers
Photoshop Filters
Wireframing Tools
Photoshop Grids
12 Grid Layout
Photoshop PSDs
PSD To HTML (Pixel Perfect Layout)
User Interface Development
: 2.5 Month)
User Interface Development / UI Development is the advance part of web designing. Our UI Development course is specially meant for web designers or for those who already know HTML4 and CSS2. This course includes advance modules to develop interactive and responsive website with latest web standards.
UI Developers / Front End Developers are among highest paid in IT Industry. Key skills to learn UI development are JavaScript, Jquery, Angular JS, HTML5, CSS3, Responsive Web Designs, Usability Testing and Bootstrap
JavaScript
20 Hours
JavaScript is the prototype based, client side scripting language of web. JavaScript is used to validate form data, add functionalities, DOM Manipulation, create cookies etc.
Javascript Intro
Client side Vs Server Side JavaScript
Intro to node JS
Node Js Installation
Javascript Variables
Javascript Comments
Javascript Datatypes

Primitive Datatype
Refrence Datatype

Javascript Strings
JavaScript Numbers
Javascript DOM
DOM Selectors
JavaScript Events
Event Listeners
Event Propagation

Event Bubbling
Event Capturing

Javascript Functions
Javascript Conditions

If else statement
Switch Statement

Javascript Loops

While Loop
Do While Loop
For Loop
For in loop

Javascript Try Catch
Javascript Arrays
JavaScript Objects
JavaScript JSON Object
JavaScript AJAX
Javascript Window Objects
Javascript Screen Objects
Javascript History Objects
Javascript Location Objects
Javascript Navigator Objects
Javascript Date Objects
Javascript Math
Javascript Timing Functions
Javascript Regex Object
Javascript Form Validation
Javascript Cookies
JavaScript Debugging
Jquery
Jquery is the most popular JavaScript library with build in functionalities for DOM Manipulation, selectors, AJAX, animations etc.
Jquery Intro
Jquery Download
Jquery Selectors
Jquery Events
Jquery CSS
Jquery Animations
Jquery Plugins
Accordion & Collapsible
Jquery Tabs
Jquery Carousel & sliders
Jquery UI Library
Jquery Lightbox
Jquery Parallax Effect
Jquery Customize
Jquery noconflict
Angular JS
Angular JS is the most popular Web Based JavaScript Framework build by Google.
What is Angular JS
Advantage of Angular JS
Setup Angular JS Environment
Angular 1 Vs 2 and 4
Installation
What is MVC Architecture
Angular JS Directives
Angular JS Controllers
Angular Form Validation
Angular JS Filters
Angular JS Module
$scope
$http
Angular JS Route
HTML5
HTML5 and CSS3 based Responsive Website Designing with UI Testing and Bootstrap framework. Tech Altum's HTML5 course is as per industry standards. Learn how to build interactive and responsive websites using Html5 and css3.
HTML5
HTML5 Intro
HTML5 New Elements
HTML5 New Attributes
HTML5 Semantic Attributes
HTML5 Audio Tag
Html5 Video tag
HTML5 New Form Elements
HTML5 SVG element
HTML5 Canvas
HTML5 Drag and Drop API
HTML5 Geolocation
HTML5 Local & Session Storage
HTML5 Compatibility

HTML5shiv.js( For tags support on IE8 and below)
modernizr.js( For Feature Detection library for IE8 and below)
Respond.js( For media queries support on IE8 and below)
CSS3
CSS3 Intro
CSS3 Selectors
CSS3 Properties
CSS3 Vendor Specific Prefixes
CSS3 Colors
CSS3 Backgrounds
CSS3 Gradients
CSS3 Transformation
CSS3 Transitions
CSS3 Animations
CSS3 Embedded Fonts
CSS3 Multi Column layouts
CSS3 Filter Properties
Sass
What is Sass
Sass Vs Less
Sass Installation using Node
How to use sass
Integrate Sass with Project
Responsive Layouts
Media Queries
Viewport
Large Desktop
Medium Desktop
Tablet
Smartphone
Make responsive website
Bootstrap
Bootstrap is HTML5 based Mobile First Framework to build responsive websites.
Bootstrap installation
Bootstrap CSS
Bootstrap Components
Bootstrap JS
Bootstrap Customize
PSD to Bootstrap
Web Designing Projects ( minimum 2 )
Create Prototype
PSD to HTML5 (Pixel Perfect Layout)
PSD to Bootstrap
Host Project on Server
Web Hosting
Website URLS
Hosting Servers
FTP
Upload Website on server
Free Web Hosting
UI Testing
W3C Validations
Cross Browser Testing
Upto IE8 Testing
UI Testing for Android and IOS Devices
Android/IOS Remote Usb Debugging
Page Speed and Performance Testing
User Experience Testing
SEO
On page SEO
Use of meta tags
SEO Tools
Create XML Sitemap
Google Analytics
Google Webmaster
Web Designing Interview Preparation
Build Resume for Web Designer/ UI Developer Profile
Interview Preparations
Interviews Question with Answers
Online Test Series
Web Designing Job Placement
Conduct Interviews in Noida Delhi NCR
100% Job Assistance
Minimum 5 Interviews
---
Duration: 4 Months
Fast Track: 2.5 Months
---
Web Designing Training Features
IIT Alumni Trainer having 6+ years Industrial Experience.
Microsoft Certified Corporate Trainer
Max 10 to 14 Students in a batch.
Free Backup Sessions.
Complete Study Material through online tutorial, android app, Youtube Channel, and pdfs.
Special Focus on Practical sessions.
Project will be handled by Trainer.
Lab Facility with Genuine Software's & Internet.
All Softwares installation included.
Resume build up and Interview preparations.
Course Completion Certificate
Upto 1 Year Support for Training, Revision & Jobs.
---
Why to choose Tech Altum for Web Designing
ISO Certified Training Institute
Run by Ex IIT Alumni
Microsoft Registered Training Partner
100% Job Assistance after Course
Free Backup Session even after course completion.
Fully AC Classrooms with Projector
Full Day Lab Facility with Genuine Softwares and Internet.
Web Designing Trainer
Mr Avinash Malhotra
Web Designer and UI Developer
,
Ex IIT Kgp Alumni
200+ Articles on tutorial.techaltum.com, 2 Articles on Linkedin.com and 26 Articles on Blogger.
More than 150+ Articles and Blogs on Web Designing
---
Scored AIR 120 in GATE 2011.
M Tech Scholar at IIT Kharagpur.
6+ Experience in Web Designing and User Interface Development.
Working as a Corporate Trainer and Freelancer from last 6 Years.
Microsoft Certified HTML5 Professional.
Till Now Trained 600+ Candidates.
Guest Faculty in Amity University, Noida & AKGEC College, Gaziabad
---
---
Web Designing Vs Web Development
| Topic | Web Development | Web Designing |
| --- | --- | --- |
| HTML4 | Yes | Yes |
| CSS2 | Yes | Yes |
| Photoshop | Yes | Yes |
| Javascript | Yes | Yes |
| JQuery | Yes | Yes |
| Angular JS | Yes | Yes |
| HTML5 | Yes | Yes |
| CSS3 | Yes | Yes |
| SASS | Yes | Yes |
| Responsive Web Design | Yes | Yes |
| Bootstrap | Yes | Yes |
| UI Testing | Yes | Yes |
| AJAX & JSON | Yes | Yes |
| Php4 & PHP7 | Yes | No |
| Mysql or MariaDB | Yes | No |
| Wordpress & Joomla | Yes | No |
| Duration: Normal / Fast Track | 6 Months / 3.5 months | 4 Months / 2.5 Months |
---
Web Designing Training
FAQ
Who can opt this course?
Web and UI Designing course is meant for both technical and non-technical students. Any Graduate, undergraduate, B Tech, BCA, and MCA can opt this course.
I am running my own business. Will this course help me?
Every business need a website. Your website is the most effective marketing tool. This course will help you to building and maintain website, Basic SEO for website optimisation, monitor website performance, Web Hosting etc.
I am already working as a Web Designer or Graphic Designer. Will this course help me?
If you are already working as a Web Designer or Graphic Designer, this course will surely help you in building your career as a UI Developer.
---
Web Designing Training Reviews
Tech Altum is the best institute for web designing.i have completed my web designing course from tech altum and also made a good project under guidence of Avinash sir.Now I recently got a job in facebook process in Wipro hydrabad. So thank you tech altum and Avinash sir.

Rating:

10

out of

10

Pushpa Poddar

, Web Developer Trainee,- Currently Web Developer in Wipro (Facebook Process ), Hydrabad.
Excellent institute i am pursuing B.A 3 year and i am taking ₹ 23,000 P.M. in kartrocket pvt ltd because of only Tech Altum. Thank you sir and mam .

Rating:

10

out of

10

Abhishek Upadhyay

, Web Designing Trainee,- Currently UI Developer in kartrocket pvt ltd, Noida
Excellent institute for all courses. I am learning web designing here and found good environment, a professional trainer which really impressive. Specially thankful to Avinash sir who trained me in this field.

Rating:

10

out of

10

Kaushal Chauhan

, Web Designing Trainee,- Currently UI Designer in Noida
I am currently a Trainee over here and kind of training which i am getting here is very satisfying. But don't go for words mere. Experience it by yourself

Rating:

10

out of

10

Kamal Preet Kour

, Web Designing Trainee,- Currently UI Developer at Think Design, New Delhi
Tech Altum is best place for those who actually want to learn something. The service provided exceeded all expectations, I am very happy with the study culture here.they have their best trainers(avinash sir). Proud to be student of tech altum

Rating:

10

out of

10

Richa Sharma

, Web Designing Trainee,- Currently Web Designer at Nirbhui Solutions, Noida
More Reviews about Tech Altum
Tech Altum Reviews